LeiKoSi GmbH - How do you secure your ladder?
Annual
180,000 Ladder accidents
Ladder accidents are a thing of the past with our LeiKoSi
Convince yourself!
Experience the LeiKoSi
Did you know that 180,000 ladder accidents occur every year in Germany alone?
Some of these accidents end badly. Others, however, have serious consequences for do-it-yourselfers or tradespeople. Life changes abruptly from one day to the next.
Since 2017, this can be a thing of the past thanks to LeiKoSi and master roofer Udo Heyl. With the ladder head safety device, a product has been developed that protects the user on the ladder from bad accidents.
Learn more about the application in practice in the product video.
The patented ladder head safety device
And that's how easy it works!
Step by step to more safety
Only advantages with our ladder head safety device
On the safe side
with LeiKoSi
The user is secured on the ladder by the LeiKoSi, because it prevents the ladder from slipping away from the back and from slipping sideways. This has many advantages not only for business customers, but also for Heimerkern.
Advantages for entrepreneurs
Advantages for do-it-yourselfers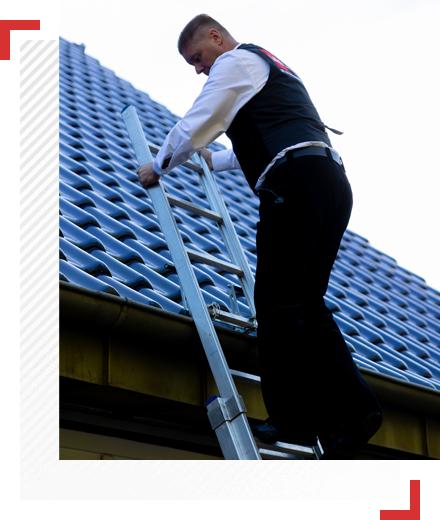 Buy LeiKoSi now
Store
Whether you are a do-it-yourselfer or a business customer, secure your LeiKoSi now.
239,00

€
Suitable for all conductor types according to DIN EN 131/1
DGUV tested and BG BAU sponsored!

Plus:
Carrying strap & transport lock

Plus:
Impact protection
incl. 19% VAT
zzgl. Versandkosten
Customer testimonials
Reviews
What our customers say about LeiKoSi
Successful cooperation
Partner
Jörg Schuchardt - Bedachungsgesellschaft mbH

Jörg Schuchardt
Master roofer Jörg Schuchardt and his employees use LeiKoSi every day.
With LeiKosi, he not only achieves greater safety in his family business, but also increases the time efficiency of his employees as a result. Since no other employee needs to secure the ladder.
Roofing contractor Udo Heyl has made it his business to ensure maximum safety when working on the ladder.
He wants to leave well-trodden paths and create innovations that move the craft forward in order to inspire his customers.
Learn more about the history and the managing director of LeiKoSi GmbH.
The Leikosi is a ladder head safety device and can be attached to the gutter. It is suitable for the do-it-yourselfer as well as for the business customer.
Professional tradesmen in particular, such as carpenters, chimney sweeps, electrical contractors, roofers, painters and other sectors of industry and trade, already rely on the safety of our LeiKoSi. However, our clientele also includes state institutions such as the building management departments of municipalities and cities as well as various disaster control facilities.
The LeiKoSi is available in our online store for 239,00 € incl. Accessories available.
Depending on the quantity purchased, a price reduction is possible.
Why should I buy a LeiKoSi?
If you are a do-it-yourselfer or a business customer with a trade and do a lot of work on the roof, the LeiKoSi is the right product for you. LeiKoSi protects you and your loved ones from serious ladder accidents.
The most innovative ladder system in the world
Blog posts
Would you like to know more details about LeiKoSi?
Then our blog is the right place for you. Immerse yourself in the world of
safest ladder safety system.
Master roofer Udo Heyl can say the same about his clever and innovative idea.
With the LeiKoSi, inventor Udo Heyl won the 2019 Federal Prize for Outstanding Innovative Achi...
Known from the lion's den and many other formats
Social media posts about LeiKoSi
Check out our press releases. Judith Williams is not the only one who is enthusiastic about our LeiKoSi.
Watch now!
Press releases about LeiKoSi